Wild Lupine & Karner Blue 
Written by: Rachel Pigden 
In Ontario and beyond, the beloved monarch butterfly is known as a flagship species for pollinator conservation. Perhaps one of the biggest successes of the monarch conservation movement is its emphasis on the importance of native plants in protecting pollinators (and other wildlife). Milkweed (Asclepias sp.), once villainized as a noxious weed, is now recognized for its critical role as the sole food source for monarch larvae.  But monarchs and milkweed are only part of the story—Ontario is home to several other butterflies-at-risk that rely on specific native plants to survive. Follow along as we profile some of these special butterfly-plant pairings.
In Ontario, the name lupine calls to mind profuse and colourful (white, pink, or purple) spiked blooms in early summer and unmistakable whorled leaves. Found along roadsides and in gardens across Ontario, this species is Garden Lupine (Lupinus polyphyllus)—a heavily cultivated species native to western Canada and the United States, but non-native to central and southern Ontario.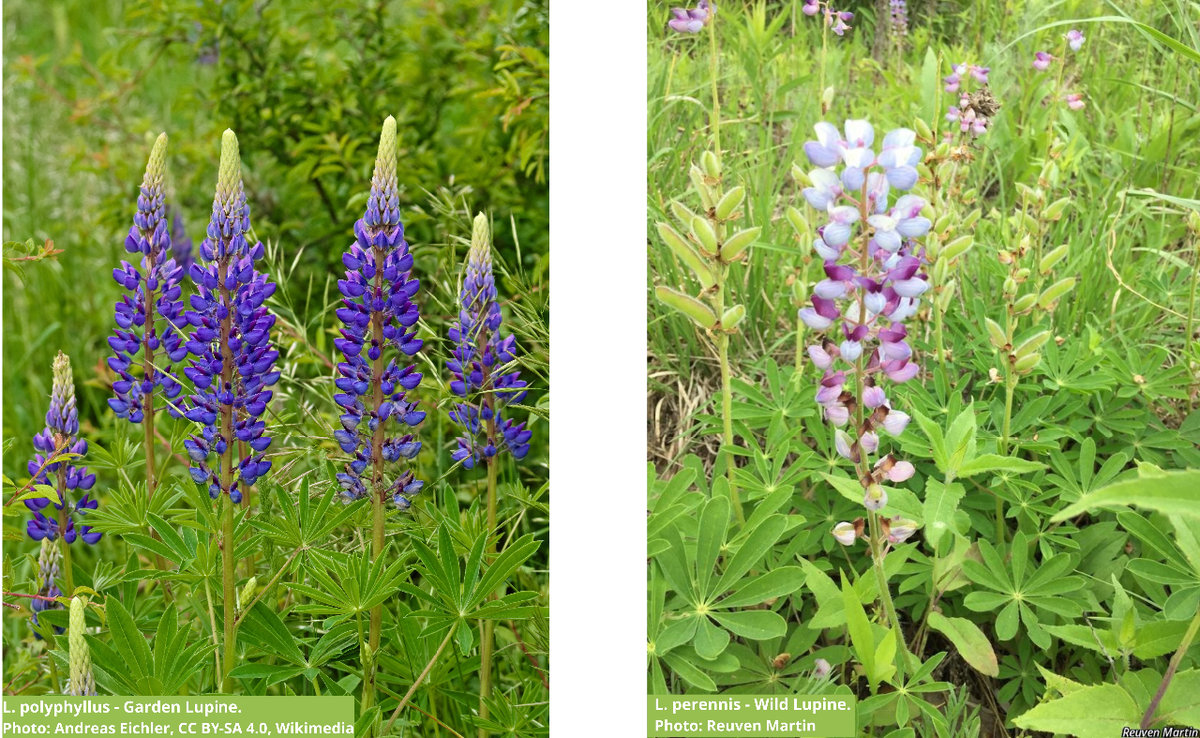 Take a trip to the Karner Blue Sanctuary near Pinery Provincial Park, and you will find another lupine species—Wild Lupine (L. perennis), which is native to Ontario and is the sole larval food source for the Karner Blue butterfly. Smaller and more pubescent—though equally as endearing—as its cultivated cousin, Wild Lupine is found in some of Ontario's most at-risk ecosystems: savannas, dunes, and barrens. The loss of such habitats and of wild lupine is a major factor in the decline of Karner Blues in Ontario.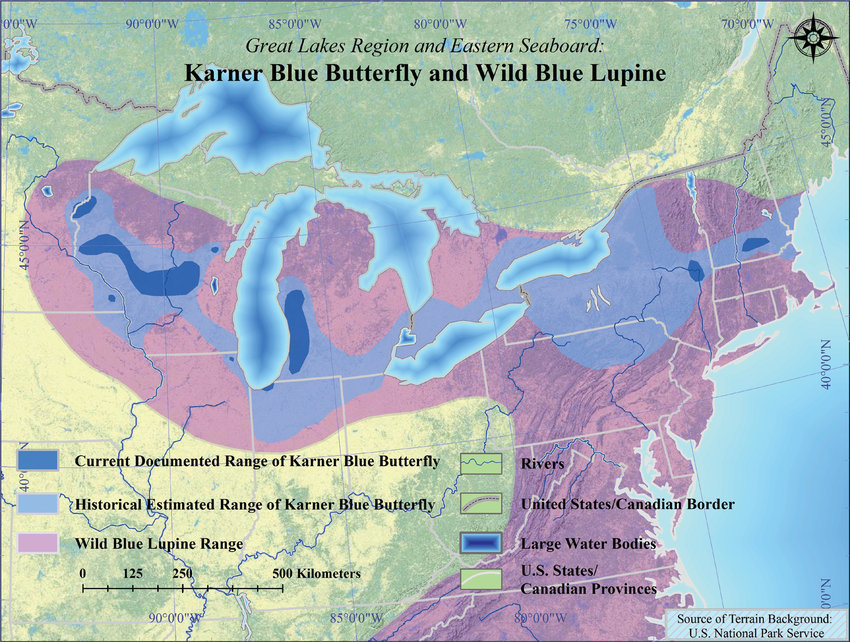 Map from "Conserving Karner Blue Butterflies in Wisconsin A Development of Management Techniques" (Hess & Hess, 2015) 
The Karner Blue is a small, deep blue to brown-blue butterfly historically found in a band stretching across the Great Lakes states and southern Ontario. This attractive butterfly is non-migratory and has two adult generations per year, with the first generation hatching in the spring from eggs laid on L. perennis leaves the previous year. In their caterpillar stage, Karner Blues have a mutualistic relationship with mound-building ants: the ants protect them from predators, while the caterpillars in turn secrete a sweet substance for the ants to feed on.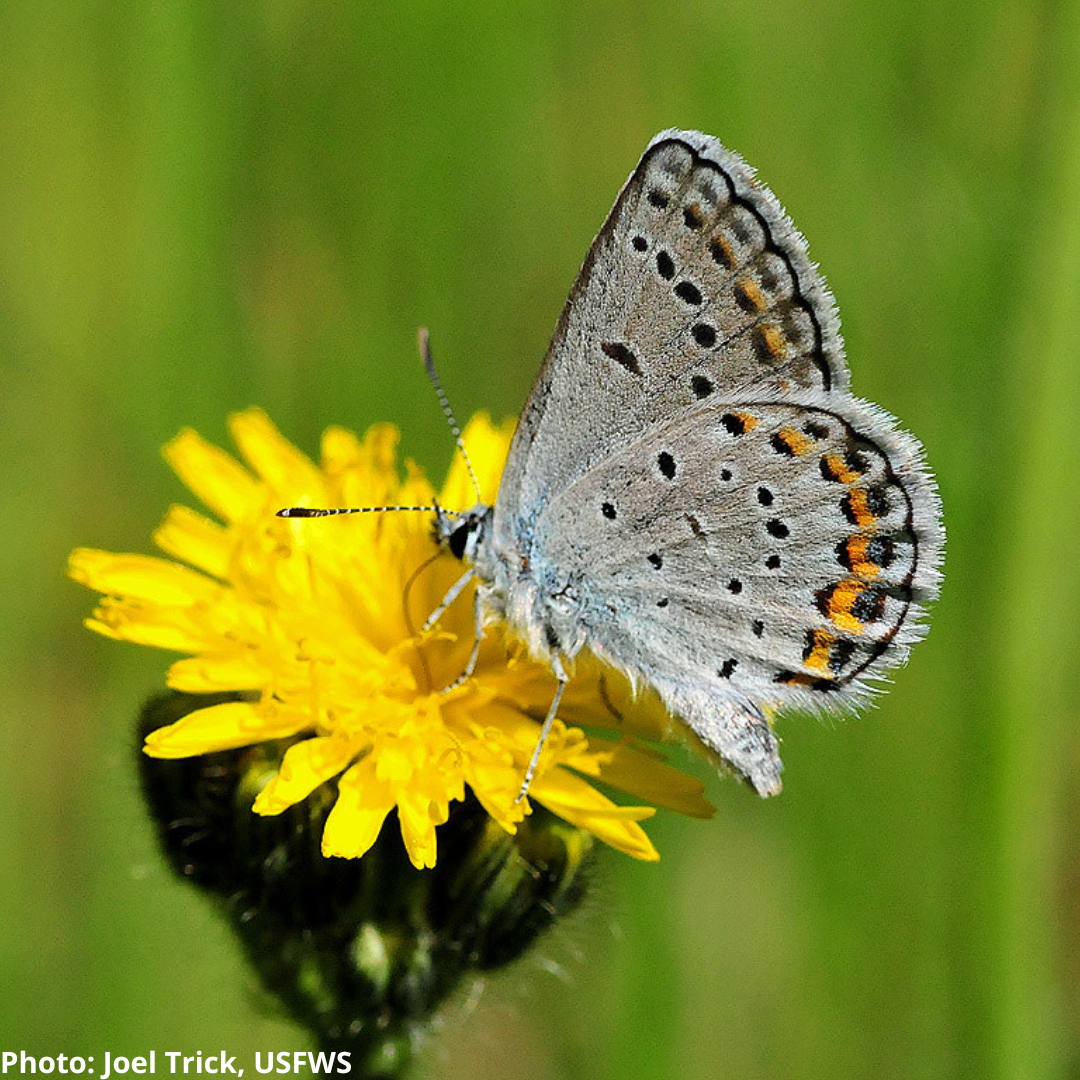 Since 2008, the Karner Blue Butterfly has been listed as extirpated in Ontario, meaning no wild populations are known to exist. Efforts to reestablish populations in the United States are ongoing, but attempts to do so in Ontario will depend on habitat preservation and restoration efforts aimed at the rare ecosystems that host Lupinus perennis.
What can be done?
Sources & Additional Reading
Nature Canada - The Rare Karner Blue Butterfly
Government of Ontario - Karner Blue
Department of Environmental Conservation - Karner Blue Butterfly 
Who we are - Karner Blue Sanctuary