Written by: Nicole White
Kiki Dann is a lifelong gardener, workshop instructor, and passionate native plant lover. Project coordinator for Polli-Patches, a pilot project of Yorklands Green Hub that aims to get East Guelph, Ontario, residents involved and excited about our pollinator species, by planting, maintaining, and observing a mini-native plant pollinator garden (and creating nesting sites/habitats for pollinators).

 

During a socially-distanced backyard visit,  Kiki told me all about what's growing and living in her fabulous urban garden!
Q: How did you become interested in gardening and using native plants?
A: I'm a lifelong gardener. I started getting into native plants when I was working with an organic gardening company who tried to get their customers to garden with purpose as opposed to just having something that looked nice.
I really love native plants. They're very beautiful and a lot of them have species of wildlife and insects that depend on them. These are called specialists – for example: some bees will only eat the nectar of specific flowers, and monarch butterflies only use milkweed as host plants for their caterpillars. Ants, beetles, and flies can also be pollinators!
Q: What's growing in your garden and what benefits does it provide?
A: I have some Asarum canadense (Wild Ginger) growing here. See how the flowers lay flat on the ground: this is so ants and other insects can walk right in! It's also a spreading groundcover that's really good in deep shade, so it's a great alternative to hostas, or to invasives like Periwinkle and Goutweed.
Wild Ginger will take dry shade very well, but it does prefer moisture. It's drought tolerant to a degree, and it fills up a place slowly and steadily without being too aggressive.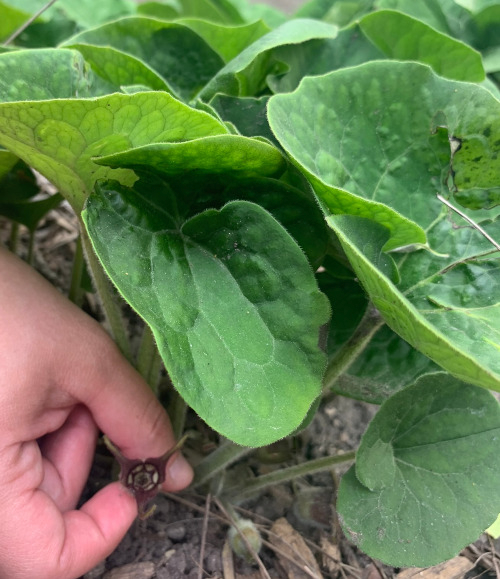 I just planted some Asclepias tuberosa (Butterflyweed) today. These are slow to establish, but once they flower, they're beautiful bright orange. They also smell good!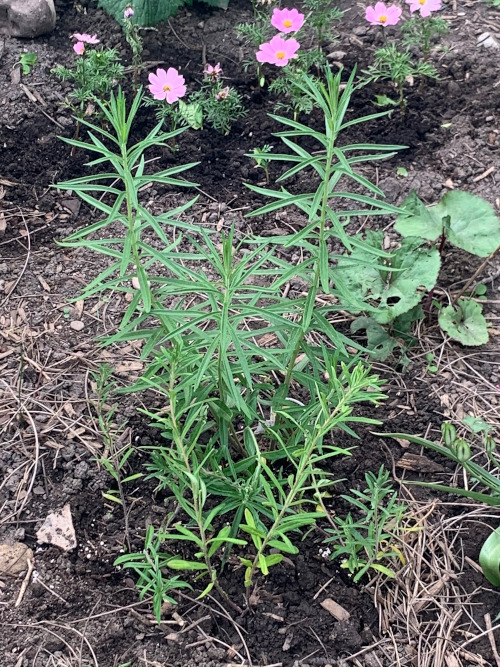 Another plant in my garden that smells great is Mertensia virginica (Virginia Bluebells), which is one of my favourite spring flowers.
I have some Arisaema triphyllum (Jack-in-the-pulpit) growing on my walkway. It's seemed to have popped up randomly around this Hosta and is jumping up everywhere!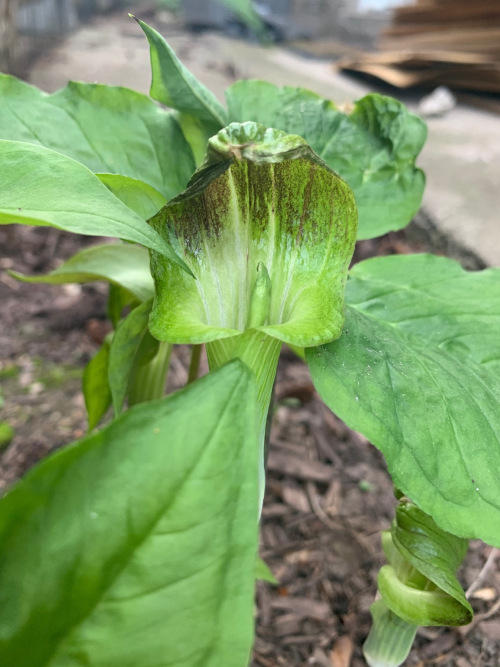 I've also planted some Anthoxanthum nitens (Sweetgrass), which I remember my grandma braiding when I was little. I'm told with the right amount of moisture and sun this plant can get a little aggressive, but I don't think that will happen where I've planted it.
Q: What else have you done to create habitat in your backyard?
I'm trying to make sure there are nesting sites for pollinators in my garden. I have areas that I try to keep muddy because most of our native bees are ground-nesting, and some of them like to nest in mud. Mulch is good because you can conserve water and keep down weeds, but if you leave some areas bare close to foraging sites, it provides habitat for the bees and other insects.
Usually toward the back of my garden I'll allow weeds to grow a little bit and leave it undisturbed within reason.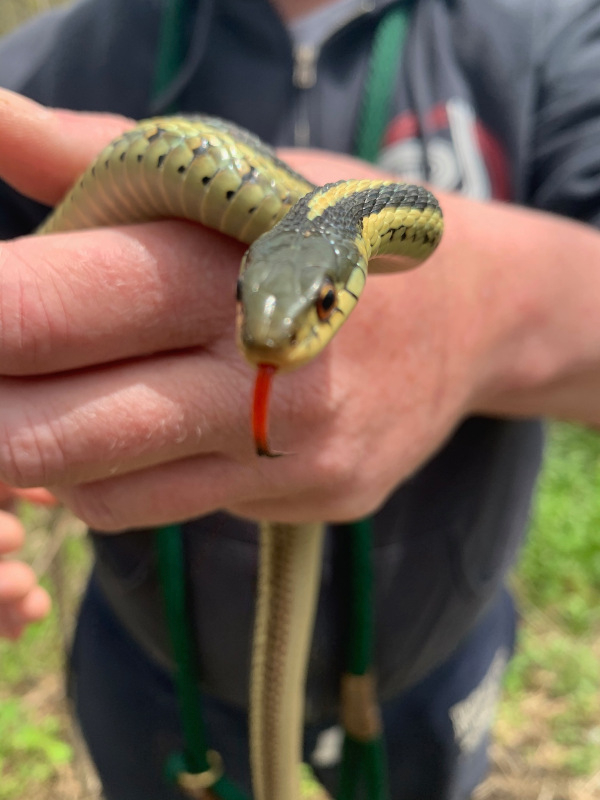 A friendly backyard visitor!
What are the challenges and rewards of growing native plants?
You can't really grow natives in a heated greenhouse like you would geraniums or tomatoes. Some plants need to be seeded in the fall, some need a cold stratification period, and in some cases, using fertilizer can damage them.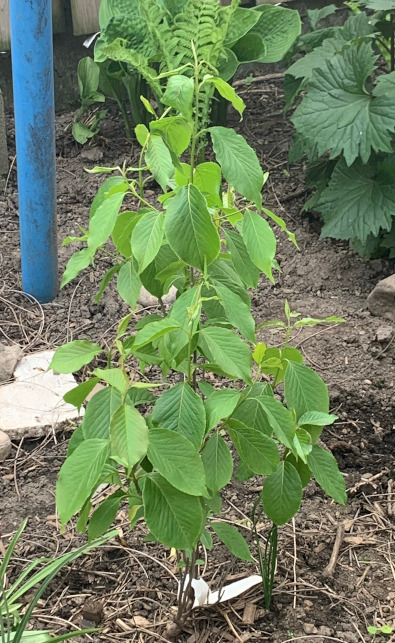 One reason some people don't get into natives is that they don't want to rip out their entire garden and replace it with all native species. That's not really affordable for a lot of people and natives aren't always as easy to find or as showy. People want their garden to look pretty and be low-maintenance – which native plants can be – but, it means more work at the beginning: my Viburnum lentago (Nannyberry) is two years old, and it's still very small. One reason people love gardening is because of the joy it brings, so I think it's fine to mix in your favourites along with natives.
Tell me about Polli-Patches!
A: Polli-Patches is a pilot project I'm coordinating in Guelph with Yorklands Green Hub. It's aiming to get people involved in native plant gardening with an emphasis on pollinators and wildlife support.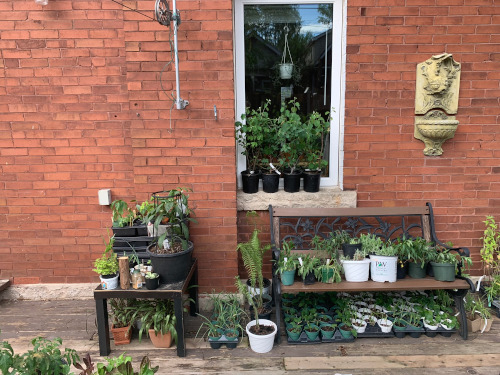 We give participants five to seven pollinator plants, including a shrub. We also give people information and recommend resources like Bumblebee Watch and iNaturalist. Then they can start observing the pollinators that are coming around.
The challenge we give them is to figure out where they can fill in the gaps in their garden next year, how they can expand their garden, and how they can add things to their garden to benefit wildlife or even themselves. For example, some people are getting Saskatoon Berry shrubs. Those are great!
I think this is where CanPlant is helpful – I want people to understand where they can fill in those gaps – so, for example, if they have nothing blooming in August, they can research and explore species blooming in August that support pollinators and are native to their region.
Thanks to the generous donation of Pollination Guelph, we got a grant to do this community project. We're completely maxed out on participants right now. We'd love to do more!  Next year we're hoping to get more funding and expand the project.
I'd love to do what B.C. did and make a pollinator pathway – so, throughout the whole city there could be little gardens and resting places for pollinators. The biggest issue pollinators face is habitat loss. They need water and someplace to rest. You can put a bowl in your yard and fill it with marbles, rocks, or even a floating leaf so they can drink water and get through the city.
I never thought I'd like native plants – I always liked very showy ornamentals – but native plants are just something else! They're very beautiful and I just love watching the variety of visitors.