Written by: Summer Graham
Did you know you can use CanPlant to create customized species lists for your native plant projects? Once you set up an account using your email address, you can view, edit, and add species to your saved lists, and export them as either a PDF including species details and photos, or as an Excel file.
After you use our filter feature to find species with the attributes you are looking for, our customizable plant lists help you keep track of and sort species for any application you can think of! Here are just some of the many ways you can make use of the species list feature on CanPlant to help you get inspired:
Making a list for shopping at your local native plant garden center (start in the winter and be ready to go when spring comes around!);
Creating lists of common and available species for restoration projects;
Keeping track of native garden species for planting by habitat type (eg. Pollinator garden, boulevard planting, wetland/wet meadow restoration);
Make a list of rapidly establishing native species to stabilize a recently cleared area;
Creating study sets to help learn and review species names and ID;
Keep a list of species you identified in a natural area you visited;
Create a "wish list" of native species you are looking for as donations towards a low budget or charity planting project;
Help a friend or neighbour make a list of native species to replace non-native/invasive species in their garden;
Create a "watch list" of unwanted invasive species in your province;
Develop a list of "acceptable species" to distribute to homeowners adjacent to a sensitive natural area;
And so much more!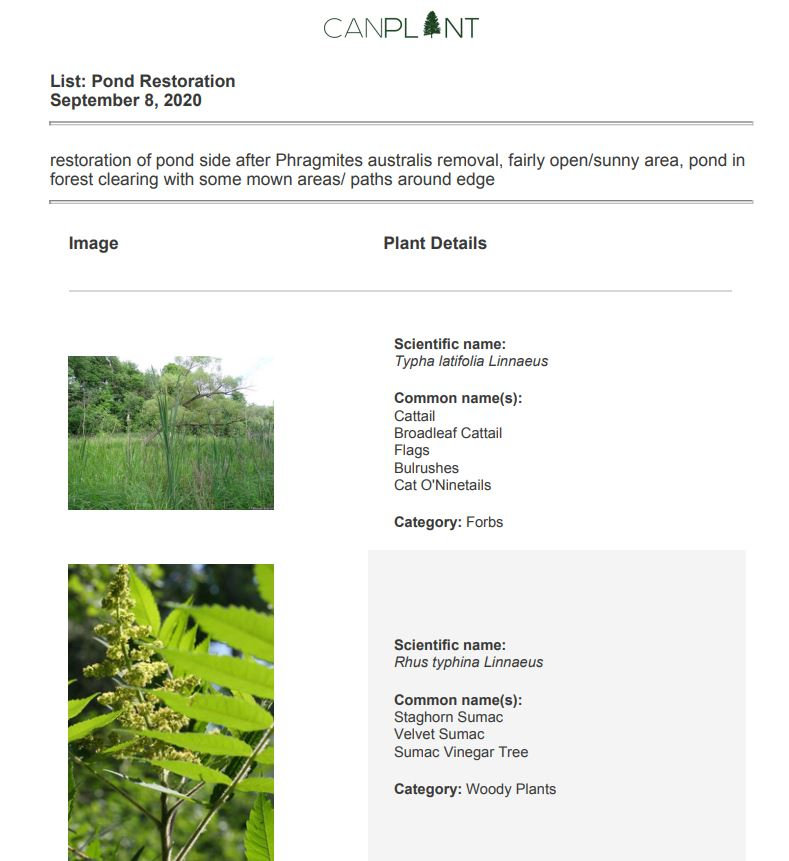 TIP: If you are going to create multiple lists, make sure to give each a unique name and use the "description" section to add a brief note on what the list will be used for!
Now that you have some inspiration for creating species lists in CanPlant, head to our species page and start planning your next native species planting today!